Zlata Dobos cake, rum cubes and mignones

Words: Mila Milojević

Photos: Konstantin Kondrukhov / Mapa Mag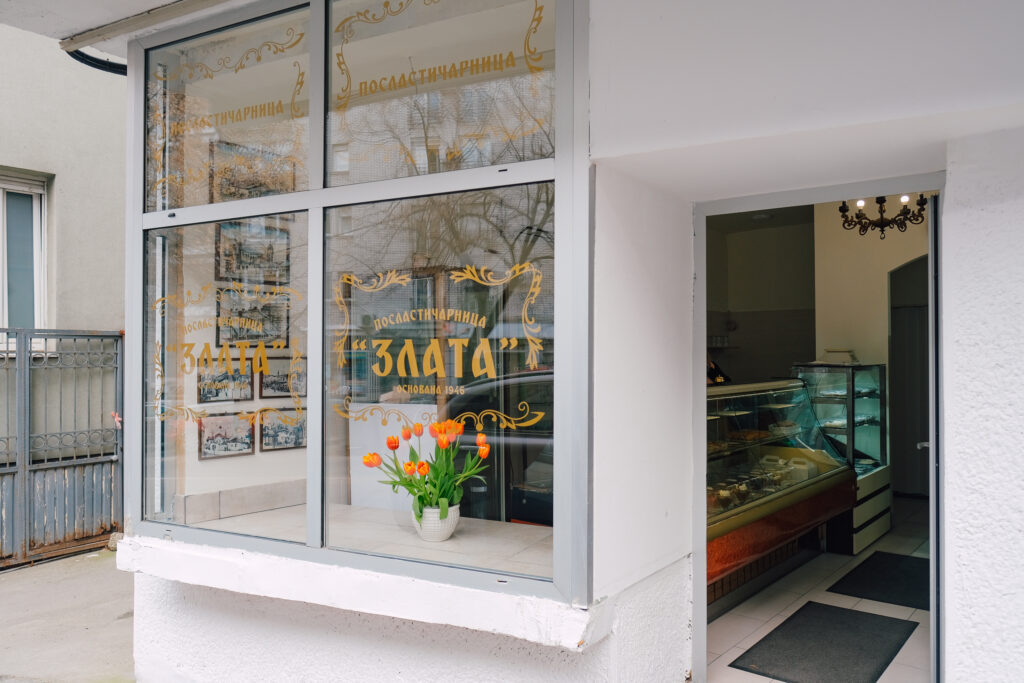 Opened since 1946.
Pastel shades, an old showcase with wooden frame and hard resistance to modernization are the first associations for the confectionery «Zlata», in addition to good cakes all these greatly influence constant customers to always return here. Although it has been recently located in Maksima Gorkog street, although the old wooden storage is replaced, the entire interior was transferred to a new location, so paintings, dishes and showcases full of cakes still contribute to the serenity created by the pastel interior, giving the impression as if time stopped here in 1946, when the confectionery was opened. 
Today, the place is run by the third generation of family Spasoyevich (Spasojević), the descendants of the first owner, Olga Spasoyevich, and many constant customers would swear that her name was Zlata. In fact, Zlata was a Jewish lady killed by the Nazi during the Second World War, and the place used to be a children's confection shop, held by her husband. After the war, the store was given to the husband of Olga Spasoyevich and on the request of Zlata's husband, the name remained the same and preserved until today.
One of the main reasons why Zlata stands out from other Belgrade confectioners is exactly their resistance to modernization, primarily in the sense of recipes. Here you will find a wide selection of classics such as a Dobos cake, rum cubes and mignones. Back in 1946 the most common cakes were pastries, krempita, shampita and baklava. But over the years the menu has grown, so today's clients enjoy confectionery authentic inventions — Diplomat cake, Zlata shnit, chestnut puree, Argentina cake and chocolate mousse, and, of course, and after all these years, the shampita.
• Maksima Gorkog street, 87 •

Instagram

•